Second Joint Coordinating Committee Meeting for J-PRISM II was held at VMGD/MCC Conference Room, Port Vila, Vanuatu on 29 October 2018, and was successfully closed.
J-PRISM II is a region-wide project in Pacific Islands targeting "Human and institutional capacity base for sustainable Solid Waste Management (SWM) in the Pacific region is strengthened through implementation of Cleaner Pacific 2025."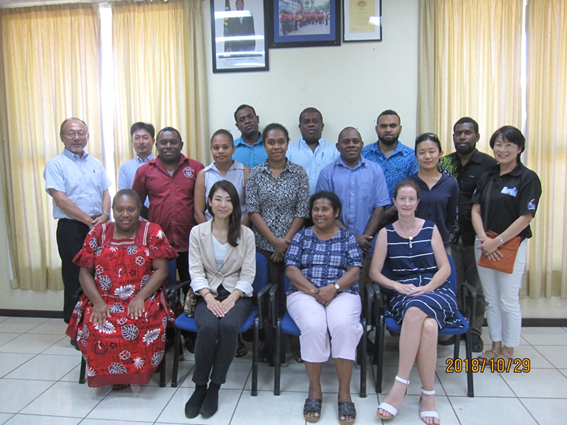 In Vanuatu, J-PRISM II is closely working with DEPC and municipal such as PVMC and LMC where the two main town was located to achieve the country project purpose that "A foundation of implementing and monitoring SWM activities in line with the Vanuatu National Waste Management and Pollution Control Strategy (NWMPCS) is built."
Mr. Reedly Alfred Tari, Director of DEPC, acted as chair and declared the meeting open. Keynote speeches were given by Mr. Naoki Takechi who is Resident Representative of Japan International Cooperation Agency(JICA) Vanuatu Office and Ms. Michelle Jonas who is Acting Deputy Director of Department of Local Authority(DLA).
Main purpose of the 2nd JCC meeting was to agree on the Project Design Matrix (PDM) and the Plan of Operation(PO), and to agree also on the addition of Output 2 in accordance with discussion.
Based on the mutual consent of both Vanuatu side (DEPC and PVMC) and JICA, Solid waste management activities of PVMC are properly implemented and monitored in line with the Solid waste management Plan after the second Joint Coordinating Committee Meeting for J-PRISM II.
The chairperson Mr. Reedly Alfred Tari closed the meeting at 13:30 p.m.